10 Unique Gifts for the Cyclist Under $50 2022
Have you been on the search for some really cool gifting ideas for the cyclists in your life? Well search no further because you've come to the right palce! 
I've done the research so you don't have to! Scroll down below to check out 15 unique gifts for any and all occasions that you need a gift for that bike lover! 
1. Mountain Bike or Road Bike Helmet Hook   $20
These artistically designed helmet hooks are the perfect gift for that active cyclist in your life. They have been 3D printed by Gcoded3D to be installed onto a wall with a provided screw. Every biker has a helmet, so you can't go wrong with grabbing one of these for a gift. They are available in two styles, Mountain and Road, and multiple colors. Use the link above to see photos in use and an instructional video of installation. Use code "SAVEON2" for $5 off your purchase of 2 or more.
2. Bike Mug  $33
These handmade mugs made by B.K. Pottery are absolutely stunning. Handmade pottery take such skill, it's hard not to be completely impressed at the pieces that they create. You can choose from a blue finish or a green finish. I can easily picture an avid rider enjoying their cup of coffee in the morning before their ride in this mug. Anybody would be thrilled to receive one of these mugs as a gift and they even offer gift wrapping!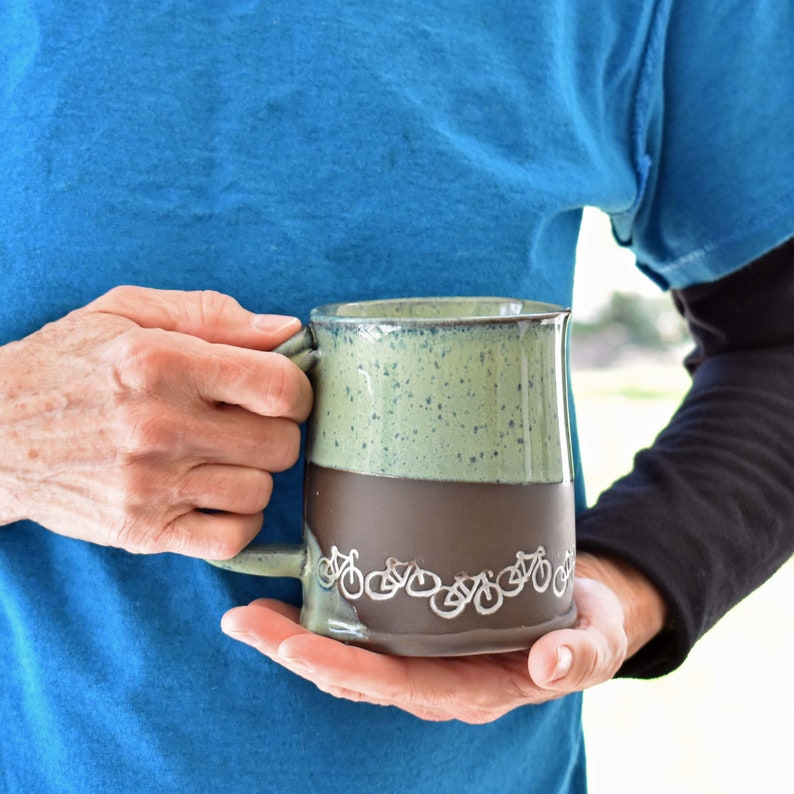 3. Bicycle Anatomy Shirt  $15
Made by Shopping Station 06, This Bicycle Anatomy Shirt is too perfect! If the bikers that you know are like the bikers I know, then they love to show off that they bike. This shirt is the perfect conversation starter.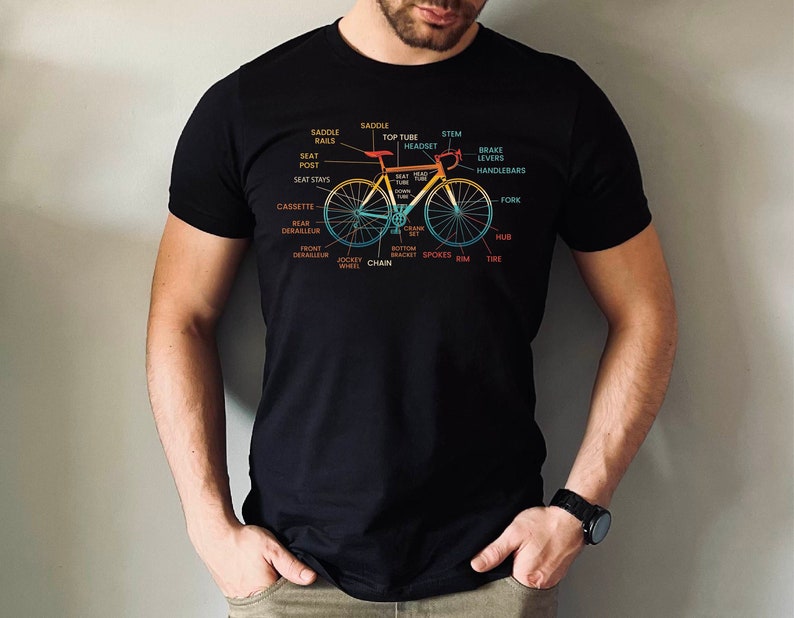 4. Bicycle Pint Glass   $21.95  
Cute glasses are all the rage right now and these bicycle pint glasses by BeveeCo do not disappoint. With a bike etched onto the glass, these guys are dishwasher safe and great for daily use. This is the perfect gift for the beer drinking bicycle lover in your life!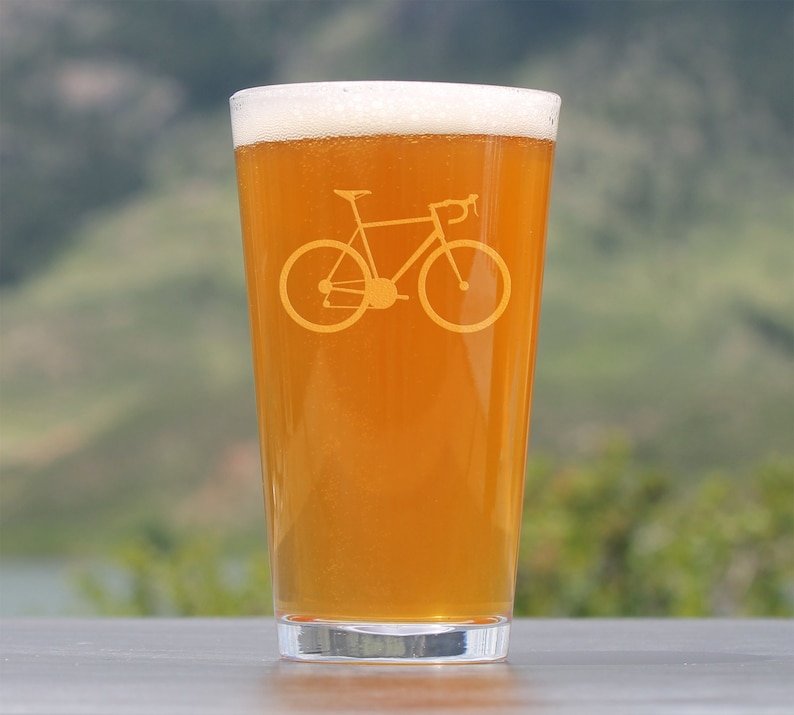 5. Mountain Bike Business Card Holder   $15
Spruce up your desk, whether your working from home or still going to the office, this 3D printed mountain bike business card holder by Gcoded3D will bring a little extra joy to the workday! And it's the perfect gift for cyclists in your life.
6. Bike Cuff Bracelet   $22
This is such a unique gift for the bracelet wearing biker! This lets them show off that they love biking in a feminine way. These bracelets are hand forged at the House of Metal Works studio in Pennsylvania!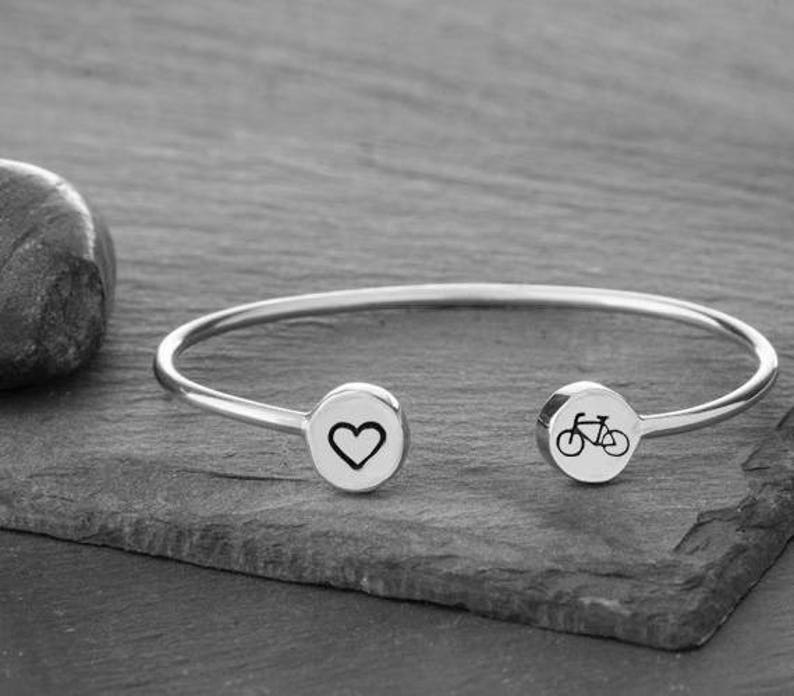 7. Mountain Bike Keychain 3pk  $10
Looking for something simple? Anyone could use a keychain, and this 3-pack comes with 3 different colored keychains- so they're sure to love one of the colors!  
8. Chocolate Bicycles  $14.04
These chocolate treats will make you gasp at their cuteness! It might be hard to eat them because you want to save them, but these chocolates will be the perfect after ride treat. If you're in the need for an edible gift- these chocolates from ChoconChoc are it!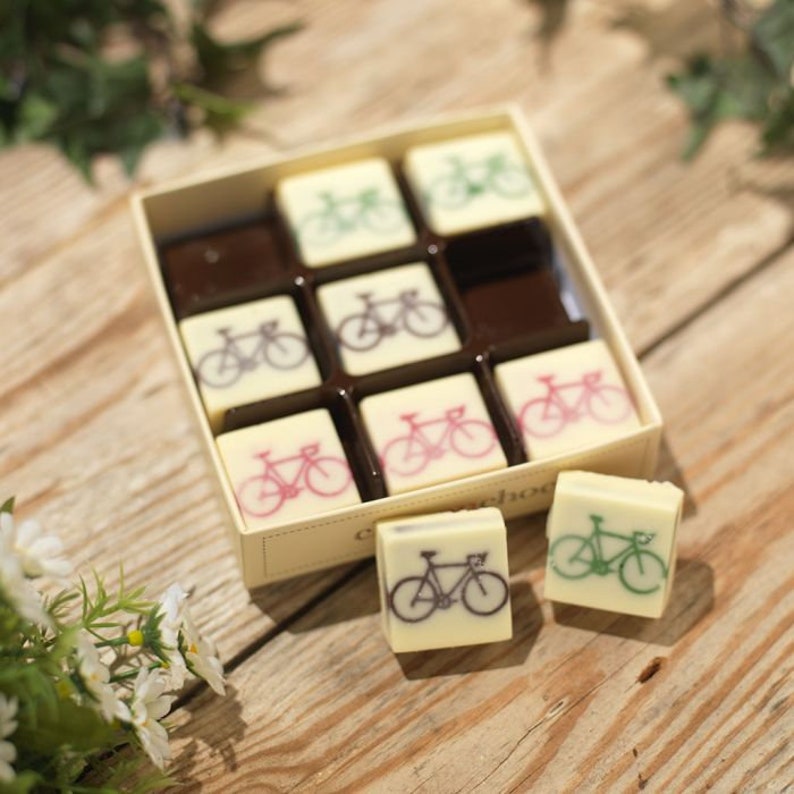 9. Engraved Multitool  $19.69
If you are not a cyclist, you might now know this, but carrying one of these in your kit is essential. And what better gift than to send a personalized gift from Okuso Custom Gifts that the person will actually use.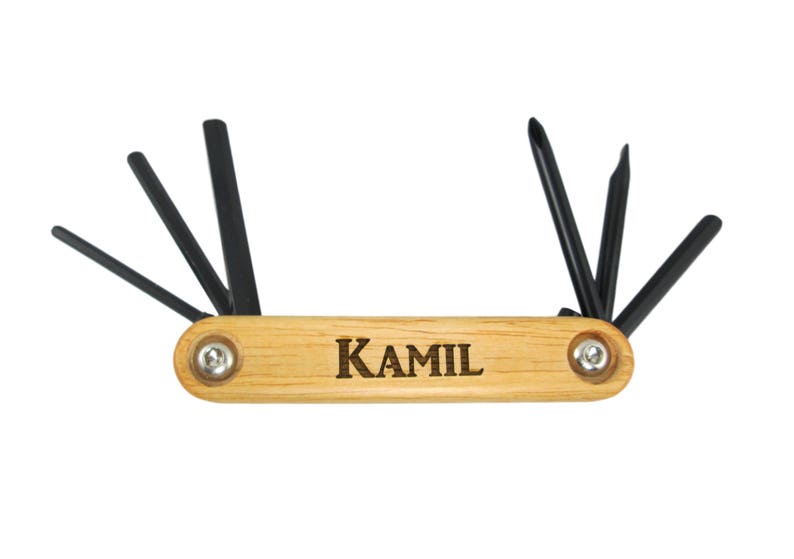 10. Fitness Bike Phone Holder $32
Does your cycling friend have a Peloton bike? This phone holder is a super handy accessory to hold a cell phone while they take a ride. These 3D printed phone holders have tons of great reviews and it's the for sure the gift they didn't know they needed the most. 
Hopefully you've felt inspired by these gifting ideas for the bicyclist in your life. Always remember that shopping small has a huge impact on real people! So no matter what you decide to gift, see if there is a small business that has created something similar. We truly appreciate making your shopping experience unique and try to go above and beyond to earn your trust! 
Happy Shopping This Holiday Season! 
Leave a comment